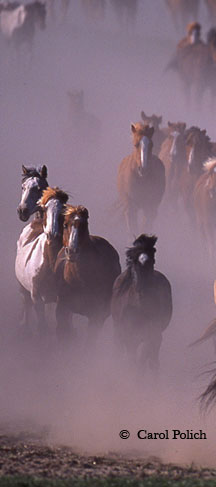 Many ranches these days are offering guest visitors an opportunity to participate in cattle work, including cattle drives. But this is the only place I'm aware of that has a horse roundup and drive.
Montana Horses, owned and operated by Kail Mantle & Renee Daniels-Mantle, run several hundred head of saddle horses around Three Forks, Montana (near Bozeman). They are a horse leasing business with clients from top-notch recreational equine operations across the Northwest to private horse enthusiasts. They also provide rides, hunting opportunities, clinics, and other opportunities to be around great horses.
From their website: "Our business is simple – we locate, purchase, and maintain a herd of quality, gentle horses who are reliable and useful in various disciplines and provide them to people by lease or sale. Most of our clients are not professional horsemen. Our horses are suited specifically to recreational horse enthusiasts. We know we have the best horses in the business and we are uniquely qualified to serve this section of the horse world very well.
"Every April, Montana Horses hosts a Spring Roundup that's right out of the Old West, with a 3-day horse drive from Willow Creek, Montana through the headwaters of the Missouri River and then home to the Mantle Ranch. You'll help round up hundreds of horses from their winter pasture, trailing them over thirty miles back to the Montana Horses headquarters, north of Three Forks.
"The drive begins in the hills south of Willow Creek, where you'll spend the day gathering horses from thousands of acres of rugged Montana country. Relax afterwards in an old-style, streamside camp, complete with wall-tents and a chuckwagon supper. The next day is the long trail into Three Forks, followed by a sit-down mean, Cowboy Comedy Show, and a warm bed at the historic Sacajawea Hotel. Wake up early and drive the herd north along the cottonwood forests of the Missouri River, heartpounding race down the river along the railroad, ending up at the Mantle Ranch for a cool drink, hearty laughs, and a well-deserved rest.
"Introducing the new PHOTOGRAPHY EXPEDITION in conjunction with the Annual Horse Roundup & Drive! We are proud to announce our new partnership with Val Westover Photography and Stephanie Adriana Fine Art Photography. Join them as your guides for the Photography Workshop "Capturing True Emotion," an exclusive opportunity to capture this event available only to participants."
Sounds like fun!
You can get more information at their website by clicking HERE.
If you have problems seeing the video below click HERE
.